Vector conversion is the process of duplicating a raster image in vector format. Vector conversions can be done either manually or with the aid of an automated tool.
About Photo to Vector Conversion
Vector programs are drawing programs so converting a photograph into vector format means making a drawing of the photo.
Photos can be converted to vector art either with automated vector conversion software (vector tracing) or by manually drawing the image with a vector program. Manual photograph vectorization is usually very time consuming unless the image is being changed to a simple illustration.
Depending on what you want the vector file for will determine how the vector file should be created. Different suppliers have specific requirements for their processes: For example, the processes that some specialty printers and vinyl-cut sign makers use, will require a vector file that has a limited amount of colors/objects (in vector graphics each color is a separate object), your image will then need to be changed to an illustration or line art graphic and will in many cases need to be drawn by hand (mouse drawn). Line art graphics do not resemble photographs; they are drawings. See samples below:
See more samples like these and line art.
Reproducing the original photograph as a simple vector illustration will give you a vector graphic file that is suitable for all processes that require vector art.
On the other hand if you will be using the vector graphic on a digital printer that can print unlimited amount of colors and you simply need a vector graphic for scaling purposes, then your image may be traced using an automated tool.This is the easiest and least expensive way to convert a photograph to vector art. A good quality large size original photograph may be necessary to achieve optimal results. (And if you already have a large enough good quality photograph, do you still need vectorization? I would only recommend it if the graphic needs to be scaled up considerably.)
Although it is hard to tell, the traced vector image shown above has hundreds of different colors, allowing the vectored image to resemble the original photograph, but rendering it unsuitable for some processes that require a limited amount of colors/objects (each color is enclosed in an object) such as spot color & specialty printing, vinyl-cut signs, engraving and embroidery. See more samples of automated vectorization of photographs.
Tracing programs rarely give you good results. Manually drawing the image may be necessary in many cases but the final vector file will be a drawing, not a realistic image like the original photograph.
Before vectorization, it is important to know what the vector file will be used for so that it can be created appropriately.
More samples...
Original photograph (non-vector image):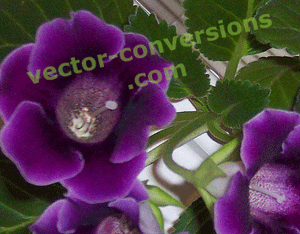 Auto vector conversion (traced): high resolution (large) photo:

Auto vector conversion (traced): low resolution (small) photo:

Photographs can also be reproduced in vector format by drawing them manually in a vector program. This is more time consuming and will not look exactly the same as the original photograph. Look at the sample image below; a photograph image was re-drawn in a vector program to be screen printed using solid Pantone spot colors .


The image above is the original photograph


The image above was manually drawn (mouse drawn) using a vector program. Without any shadows, highlights or gradient color blends, the image looks "flat", this is a color line art graphic. This type of file is suitable for all types of printing including specialty and spot color printing, vector file is cut-ready art for plotters &vinyl signs, vector graphic also suitable for engraving, embroidery and more.
Photograph-like images (full color, multi-tone, color gradients & blends)
Images that have a multitude of colors, color gradients, highlights, shadows, etc., are very much like photographs when it comes to vector conversion. Usually these type of images need to be manually redrawn in vector format.

Below are samples of traced images which include many color blends (automatic/traced vectorization not recommended):

Above: Gradient-filled high resolution original image


Above: High resolution (good quality) image converted using an automated vector conversion program. The smooth graduation from one color to another and the sharp and clear lines are lost.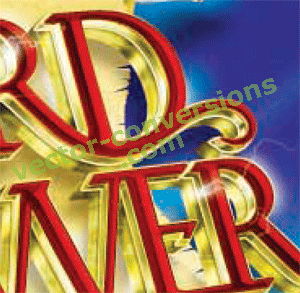 Above is a sample of a low resolution, gradient-filled image

Converting a low resolution image with an automated vector conversion program gives you poor quality results.
Raster photo to vector line art
Raster photo to vector illustrations
Raster photograph traced as vector