Raster to Vector Conversion
Vector Conversions is a vectorization and image repair service. Vector Conversions specializes in the conversion of bitmap images into
vector format
. Vector files are suitable for specialty printers and spot color separation, cut-ready art for vinyl signs, engraving, plotters, web use and more. We can also create vector line drawings from rough sketches. Vectorization can be done to "clean up" poor quality images or to scale images without losing quality.  
See samples
1. Get Quote - Click here to give us specifics and get a quote - or simply email us your file

2. Get Proof - Within 2 - 24 hours (unless otherwise specified)
3. Get Vector - After proof is approved, make payment to receive your vector file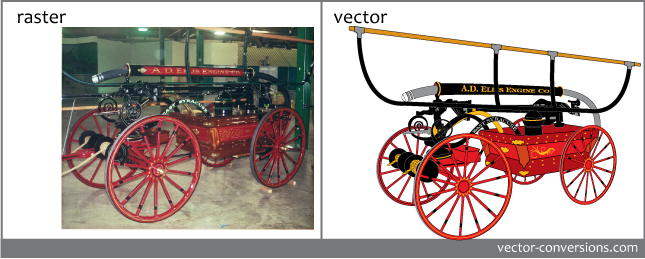 Hand-drawn vectorization of a photograph. See more like this Vector Illustrations and Line art.
Vector line drawings can be very simple, a basic outline, or like the above drawing with a moderate amount of detail or highly detailed. See more line-art vector samples
Top left original poor quality logo. Right: manual (hand traced) vector conversion to repair logo. More vector conversion samples.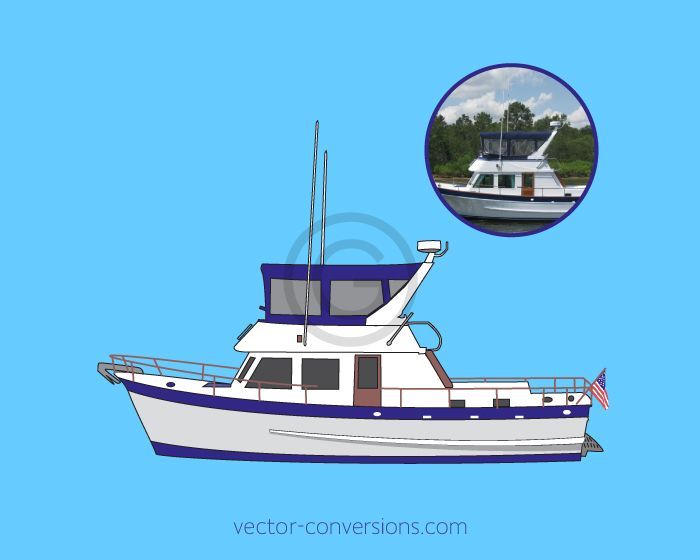 Manual vector conversion of a photograph: Image is changed from a continuous tone graphic into a line drawing. See more like this: Vector Illustrations and Line art.



Lost original? Even if all you have is a photo of the artwork printed on an item or otherwise visible on the photo (like the sample above), we can try to reproduce it by manually redrawing it in vector format. See more samples like this


Top left: original raster (bitmap) image. Top right: vector art. See more samples.


The above bitmap image on the left was vectorized manually using adobe illustrator (right). The smooth color gradient from yellow to white can only be achieved with raster effects. Read about color blends vs 100% vector.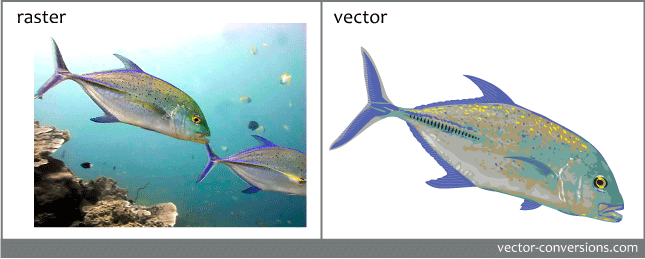 Vector conversion from a full color raster image to a 6 spot color vector drawing.
Above Photograph (left) was vectorized using a combination of automated vectorization and hand-drawing (right). See vector conversion of photographs as lineart. See photograph vectorization options.
What type of files can be vectorized?
What type of vector files do you supply?
How is the vectorization done?
Why would I need a Vector file?


What type of files can be vectorized?
As long as we can see the image, we can vectorize it! Jpg, gif, tif, psd, bmp, png, doc, pdf, ppt, pub, pct & more. See the complete list here. We can also create a vector file from a scanned sketch - just email us your file and we'll give you a quote.


What type of vector files do you supply & what are they good for?
Vector output as AI, EPS, PDF, CDR & more. See the complete list here. The vector files can be suitable for commercial & specialty printers, cut-ready art for signs & banners, engravers, web use and more. Make sure you specify what you need the file for so that it can be prepared accordingly.


How is the vectorization done?
We either manually draw in vector format, use an automated tracing tool, or use a combination of both; whatever produces the best result at the lowest price, or however you instruct us to do it.
Why Convert to Vector?
Vector art is scalable - You can enlarge a vector file to any size without losing quality. Raster images on the other hand are made of pixels and do not scale up without losing quality, they usually look pixelated when enlarged. Vector graphics are not made of pixels - they are composed of objects based on mathematical calculations - their quality is not affected when enlarged.
Vector graphics are resolution independent, they can be used at the highest resolution possible. For example if a printer requests a 600 dpi (dots per inch) image file, the vector file can be printed at 600 dpi, if a printer requires a 1200 dpi file, the same vector file can be printed at 1200 dpi, etc. The resolution of a raster image is limited to the number of pixels included in the file.
Reduce the number of colors & printing costs - With vector images you can reduce the number of color plates the printer will need to print your image - and reduce printing costs - and you can select from pre-printed spot color swatches for an exact color match.
Vector is required by many companies - A lot of sign companies, engravers, screen and specialty printers prefer vector art for their processes. Other processes such as engraving and vinyl cutting for signs MUST use vector art because their equipment is guided by a path present only in vector files.
Vector files can produce many different file formats - Vector files can also be saved as or exported as many other file formats including: EPS, AI, CDR, PDF, JPG, TIF, PNG, WMF and many more.

Vector images do not display on the web therefore all images on this website have been rasterized as pixel graphics so that they can be viewed online. The actual vector files can be viewed with a vector program and do not lose quality when scaled.